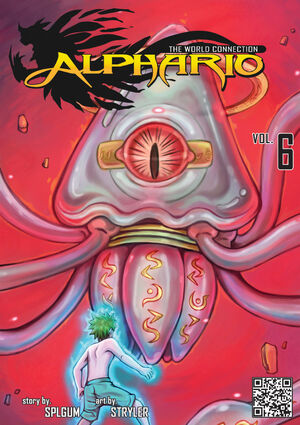 Alphario Vol. 6
is the tenth book of the Alphario manga series, following the events of 
Alphario Vol. 5
and
Alphario Vol. 5.5
. 
Alphario Vol. 6
was first released on November 14, 2015 at Komikon 2015 by Alphario TWC.
Synopsis
When Aina, a member of his fan club, is threatened by the menacing kyvix Anuonesa, Dennis wastes no time and hurries to her rescue. However, Eurid feels unsettled, wary on how the battle will turn out.
With limited time and restricted underwater mobility, all odds are against our two heroes. Will they manage to turn the tides and rescue Aina before they run out of air, or will they get dragged down into the depths below and become fish bait?
Availability
Alphario Vol. 6 is available at the Alphario TWC booth in major comic conventions in the Philippines. The book is also available for online ordering at the Alphario website, DeviantArt, and Facebook pages.
Contents
Title: Alphario Vol. 6
Number of Pages: 56
Size: A5 (148 × 210 mm)
Price: Php 110 / USD 8.5

Sample Pages