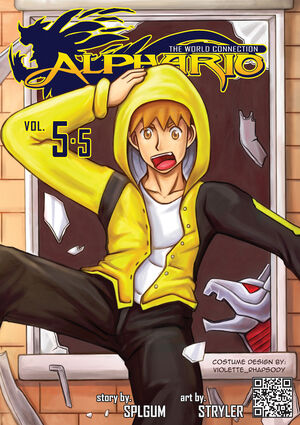 Alphario Vol. 5.5
 is the ninth book of the Alphario manga series, following the events of 
Alphario Vol. 4
 and 
Alphario Vol. 5
. 
Alphario Vol. 5.5
was first released on October 3, 2015 at October Komiket 2015 by Alphario TWC.
Synopsis
Ever wondered what it's like in the lives of Alphario's other characters? In this book, everyone shares the spotlight! See through the eyes of our heroes and watch the same events unfold at a whole new perspective.
Alphario Vol. 5.5 is a supplementary book of Alphario Vol. 4 and Alphario Vol. 5, featuring an illustrated story recap, character concept art, a special "Meet #TeamAlphario" section, and multiple comic strips from renowned local artists.
Availability
Alphario Vol. 5.5 is available at the Alphario TWC booth in major comic conventions in the Philippines. The book is also available for online ordering at the Alphario website, DeviantArt, and Facebook pages.
Contents
Title: Alphario Vol. 5.5
Number of Pages: 32
Size: A5 (148 × 210 mm)
Price: Php 60 / USD 6

Sample Pages