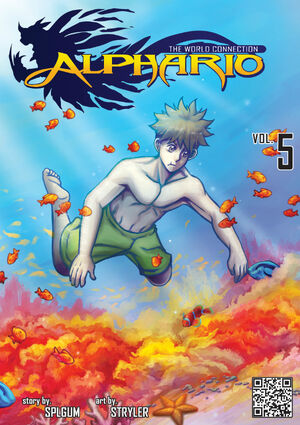 Alphario Vol. 5
 is the eighth book of the Alphario manga series, following the events of 
Alphario Vol. 4
. 
Alphario Vol. 5
 was first released on August 15, 2015 at Komikon Indieket 2015 by Alphario TWC.
Synopsis
Dennis is puzzled that a few hours in Altre is about two days on Earth. He spends the night searching for answers, but with Eurid gone and without anyone else to turn to, he doesn't get very far.
Before Dennis could investigate any further, Franck invites him out to an unexpected beach trip on the special day of Hinamatsuri. Will the white sands and crystal blue waters of Omi-Maiko be enough to take Dennis's mind away from his worries?
Availability
Alphario Vol. 5 is available at the Alphario TWC booth in major comic conventions in the Philippines. The book is also available for online ordering at the Alphario website, DeviantArt, and Facebook pages.
Contents
Title: Alphario Vol. 5
Number of Pages: 56
Size: A5 (148 × 210 mm)
Price: Php 110 / USD 8.5

Sample Pages