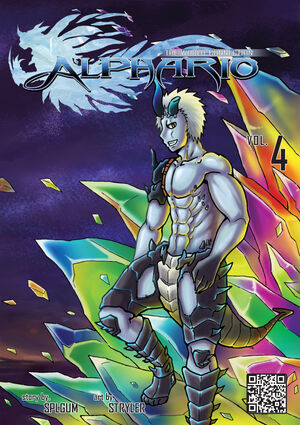 Alphario Vol. 4
 is the sixth book of the Alphario manga series, following the events of 
Alphario Vol. 3
and
Alphario Vol. 3.5
. 
Alphario Vol. 4
 was first released on October 31, 2014 at the GTMACCON 4 Pinoy Komiks Cosplay Pre-Event by Alphario TWC.
Synopsis
"All hail Eurid, mighty guardian of Altre!" Dennis flatters Eurid in order get him to help defeat the raging kyvix. Nevertheless, Eurid eventually relents upon learning that a kyvix had appeared in the human world earlier.
What exactly is Eurid, and how is he different from the rest of the kyvix in Altre? What are his intentions? Aside from him, are there others that are not out for the kill? As they delve deeper into Altre, more and more questions than answers arise…
Availability
Alphario Vol. 4 is available at the Alphario TWC booth in major comic conventions in the Philippines. The book is also available for online ordering at the Alphario website, DeviantArt, and Facebook pages.
Contents
Title: Alphario Vol. 4
Number of Pages: 56
Size: A5 (148 × 210 mm)
Price: Php 100 / USD 8
Sample Pages