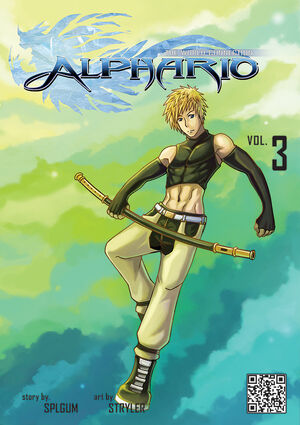 Alphario Vol. 3
is the fourth book of the Alphario manga series, following the events of
Alphario Vol. 2
.
Alphario Vol. 3
was first released on April 12, 2014 at Summer Komikon 2014 by Alphario TWC.
Synopsis
The mysterious man attacks Dennis, leaving him with no choice but to defend himself. As soon as Dennis lands a clean hit, however, the man withdraws. Frustrated, Dennis follows him deeper into Evergrowth Forest and eventually realizes that the man might be involved in a lot of the strange things that have been occurring around him lately.
Why did this man—who earlier rescued Dennis—attack him? Will he finally give Dennis the answers that he has been looking for?
Availability
Alphario Vol. 3 is available at the Alphario TWC booth in major comic conventions in the Philippines. The book is also available for online ordering at the Alphario website, DeviantArt, and Facebook pages.
Contents
Title: Alphario Vol. 3
Number of Pages: 56
Size: A5 (148 × 210 mm)
Price: Php 100 / USD 8
Sample Pages