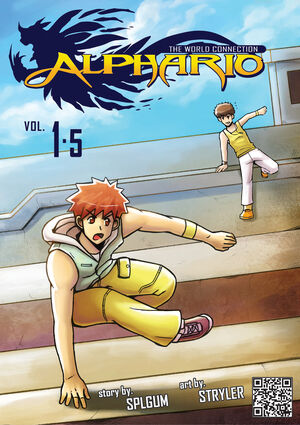 Alphario Vol. 1.5
is the second book of the Alphario manga series, following up on the events of
Alphario Vol. 1
. Initially titled
Alphario Omake 1
, the book was revised and rebranded to minimize confusion among readers, as the book was meant to be read after
Alphario Vol. 1
and before
Alphario Vol. 2
. Together with
Alphario Vol. 3.5
,
Alphario Vol. 1.5
was first released on August 2, 2014 at Komikon Indieket 2014 by Alphario TWC.
Synopsis
Dennis is rarely seen without his camera. Even in the most perilous situations, he jumps into the heat of the battle without hesitation to keep his camera safe from harm. Why would Dennis go to such lengths?
Alphario Vol. 1.5 is a supplementary book of Alphario Vol. 1, featuring a back story, character concept art, comic strips, sketches and illustrations, and an exclusive "Meet the Alphario Crew" section not found elsewhere.
Availability
Alphario Vol. 1.5 is available at the Alphario TWC booth in major comic conventions in the Philippines. The book is also available for online ordering at the Alphario website, DeviantArt, and Facebook pages.
Contents
Title: Alphario Vol. 1.5
Number of Pages: 32
Size: A5 (148 × 210 mm)
Price: Php 60 / USD 6
Sample Pages