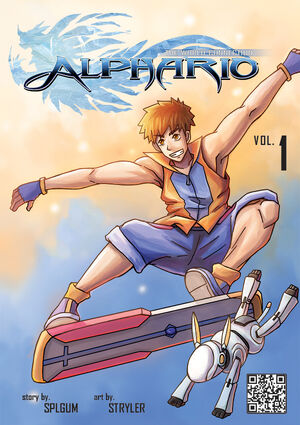 Alphario Vol. 1
is a reboot of
Alphario Vol. 0
(formerly
Alphario Vol. 1 [2011]
) and is the first book of the Alphario manga series.
Alphario Vol. 1
was first released on April 13, 2013 at Summer Komikon 2013 by Inkjinks Label.
Synopsis
After the submission deadline had been extended three times, Dennis was finally convinced to submit his entry for Shutter Technologies's photo competition. Luck was on his side, and he eventually wins grand prize—an all-expense trip to the country of his dreams, Japan.
Despite reports on monster sightings, Dennis decides to ignore warnings and discover the unexplored mystery behind Evergrowth Forest. What awaits him at the end of his journey?
Availability
Alphario Vol. 1 is available at the Alphario TWC booth in major comic conventions in the Philippines. The book is also available for online ordering at the Alphario website, deviantART, and Facebook pages.
Contents
Title: Alphario Vol. 1
Number of Pages: 56
Size: A5 (148 × 210 mm)
Price: Php 100 / USD 8
Sample Pages