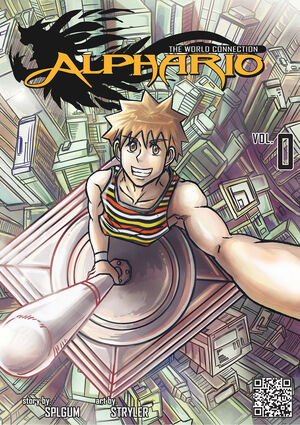 Alphario Vol. 0
is the seventh book of the Alphario manga series and is a prequel to
Alphario Vol. 1
, featuring scenes not included in the original novel version.
Alphario Vol. 0
was first released on April 26, 2015 at Ozine Fest 2015 by Alphario TWC.
Synopsis
One summer afternoon during parkour training, Dennis and his friends notice a poster across the street. It was about a photo competition, and the winner gets to enjoy an all-expense trip to Japan and an exclusive tour around Shutter Technologies's main headquarters.
Everyone is enthusiastic about the contest except Dennis, who seems insecure about participating despite his passion for photography. What would it take to finally convince him to submit his winning entry?
Availability
Alphario Vol. 0 is available at the Alphario TWC booth in major comic conventions in the Philippines. The book is also available for online ordering at the Alphario website, DeviantArt, and Facebook pages.
Contents
Title: Alphario Vol. 0
Number of Pages: 20
Size: A5 (148 × 210 mm)
Price: Php 40 / USD 4

Sample Pages