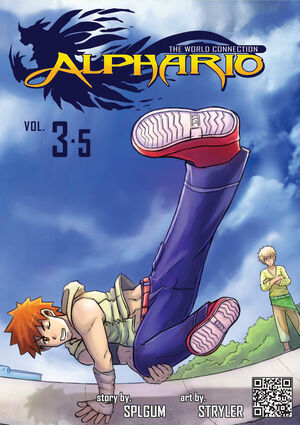 Alphario: The WIP Before
is the fifth book of the Alphario manga series, following up on the events of
Alphario Vol. 2
and
Alphario Vol. 3
. It is the first book of the series to feature Alphario illustrations and related fan art from local and international artists. Together with
Alphario Vol. 1.5
,
Alphario Vol. 3.5
was first released on August 2, 2014 at Komikon Indieket 2014.
Alright class! The great and almighty Eurid takes the stage! Our topic? None other than the world of Altre! So kids, pay attention lest you incur my wrath. You wouldn't want to be punished by me... or do you?
Alphario Vol. 3.5 is a supplementary book of Alphario Vol. 2 and Alphario Vol. 3, featuring a side story, character concept art, comic strips, sketches, and illustrations from renowned local and international artists.
Availability
Edit
Alphario Vol. 3.5 is available at the Alphario TWC booth in major comic conventions in the Philippines. The book is also available for online ordering at the Alphario website, DeviantArt, and Facebook pages.
Title: Alphario Vol. 3.5
Number of Pages: 32
Size: A5 (148 × 210 mm)
Price: Php 60 / USD 6
Sample Pages
Edit